SunWize UPS Version Adjustable Roof-Ground Mount
UPS Version Adj Roof/Ground Mount
SunWize®
Universal Roof/Ground Mount Support Structures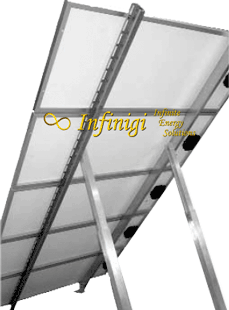 SunWize Universal roof/ground mount module support structures are engineered to endure the harshest environments. They feature a continuous slotted pattern on heavy gauge brushed aluminum channel supporting members. Three rail sizes, 96-1/4", 104-1/2" and 118-1/2" long, allow mounting of any large-framed solar module without the need to drill additional holes, including solar modules by other manufacturers not listed in table below. Simply divide the rail length by the width (inches) of the module to determine how many will fit. All can ship UPS (add 'U' suffix to 118" model).

Flush mount structures (USF) include four mounting feet and all stainless steel fasteners.

Adjustable tilt models (USA) incorporate additional dual-telescoping support legs, infinitely adjustable from 25 to 55 degrees. Our unique captive bolt design in the tilt leg allows for onehanded angle adjustment.
Also Known As:
SWUSA.118USY
SWUSA 118USY
SWUSA_118USY
SWUSA118USY
Note: Specifications and pricing of the SunWize UPS Version Adjustable Roof-Ground Mount subject to change without notice. Illustrations and descriptions of the SunWize SWUSA-118USY do not claim to be complete or exhaustive.